Learn to Skate Ski Program Navigator
The Nordic Ski Lab™ Learn to Skate Ski Program is a comprehensive, step by step program that teaches all 5 skate skiing techniques. 
It's a self-directed, online video program for skiers who enjoy learning at their own pace and want to learn how to ski with current styles and techniques. Skate techniques are demonstrated by top skiers, including World Cup and Olympic athletes.
The Learn to Skate Ski Program has 6 courses, 30+ videos and 40+ hours of instruction. 
The program is easily adaptable, once you understand the overall structure. You can adapt it to suit your pace of learning and what you most want to learn. This navigation page will help you personalize the program to match your needs and goals.
The program structure allows for ongoing review, so that you can circle back to practice basic skills, while adding new skills.
The Learn to Skate Ski Program is included in the cost of a Nordic Ski Lab membership. Learn more about pricing and sign up >>
Program design and rationale. Understand how to make the program work best for you.
🎥 1 video, 9 min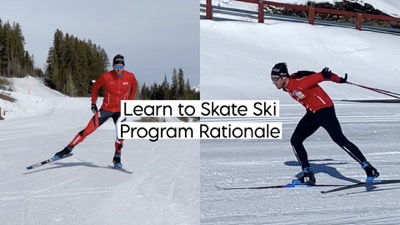 Orientation to skate skiing for new skiers. Theory only. No on-snow lessons.
🎥 4 videos, 40 min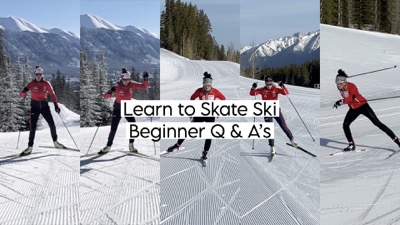 If you want to bypass the introductory information, you can skip the above 2 courses and go straight to the "Basic Skills" course for on-snow skiing lessons.
First on-snow lessons. Learn how to push the skis, how to do a double pole push and how to glide.
8 videos, 72 min
2 Techniques: Free Skate & Double Pole,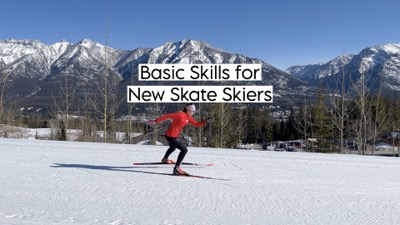 After the Basic Skills course, you can chose to stay on the flats and learn how to coordinate the pole push with the skate push for 2 techniques, called One Skate and Two Skate. (V2 Skate and V2-Alternate) OR Start learning how to skate ski up hills.
I recommend you start with the Uphill Skate 1 course to learn Diagonal Skate technique, then learn One Skate (V2), then learn Offset (V1) with the Uphill Skate 2 course. Learn Two Skate (V2 Alternate) last of all. It's true that Two Skate is the easiest technique, but it's also the least important and can create the bad habit of poling on one side all the time.
Learn to coordinate poling and skating on the flats.
6 videos, 55 min
2 Techniques: One Skate and Two Skate (V2 and V2 Alternate)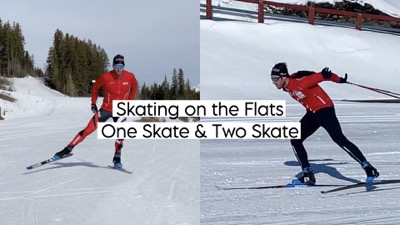 Learn how to make the skate push work on uphills.
7 videos, 28.5 min
1 Technique: Diagonal Skate (a.k.a. Coaches' Skate, Granny Skate etc)