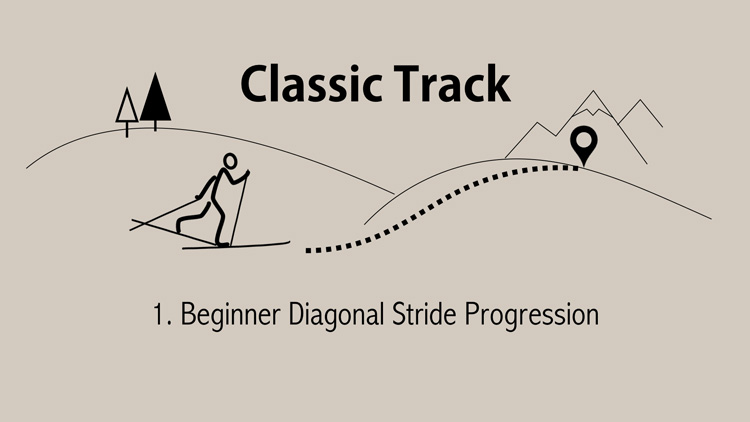 Course Overview:
By the end of this course, skiers will have learned the essential skills of diagonal stride technique. This course provides an excellent foundation and entry point for classic skiing.
This course is taught by Lyle Wilson, one of the most charismatic and beloved members of the Canadian cross-country ski community. Lyle has almost 50 years experience coaching skiers at all levels and has honed his teaching progressions, cues and tips into a highly effective system for helping new skiers rapidly learn and improve their diagonal stride technique. You can meet Lyle at Nipika Mountain Resort, a beautiful ski destination in British Columbia, Canada.
The principle difference between Lyle's approach to technique and what we advocate at XC Ski Nation is with respect to posture. At XC Ski Nation we teach technique from a neutral spine position, with shoulders set, not rounded forward. For more information, please refer to the Biomechanics course, How to Move Better.
XC Ski Nation athlete Olivia Bouffard-Nesbitt helps with the demonstrations in this course.
Coach Credit
Lyle Wilson
First time on XC skis – 1962 in Winnipeg
Raced in Manitoba throughout the 1970s
Started Fresh Air Experience ski shops in 1972
CANSI President and Technical Director 1976 – 1986, Level IV National Examiner
NCCP Level 5 Certified Coach
British Columbia Provincial Coach 1981 – 83
Alberta Provincial Coach 1984 – 87
National Ski Team Coach – 1988- 95
Masters racer, winning 15 National championships & 3 World Masters podiums
1979 – present, Owner and Manager Nipika Mountain Resort
Cancer survivor, 2017